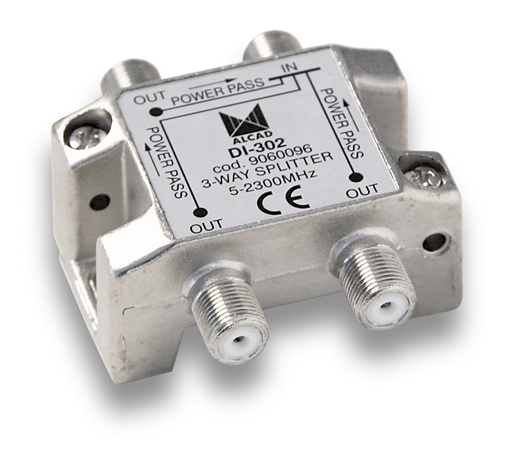 ALCAD DI-302
Product Features
Description
Splitters for terrestrial and satellite TV, covering all frequencies from 5MHz to 2,300MHz. They distribute all the input signal in equal parts among their outputs. They have a feed path through any of their outputs to the input. The response of the outputs is flat. Available with 2, 3, 4, 6 or 8 outputs.
Applications
Individual and collective installations of terrestrial and satellite TV with a star-shaped distribution. They permit power to be fed from a preamplifier or LNB through any of the outputs. In installations with multiswitches, a control voltage can be sent through their outputs.
Characteristics
Protection diodes in all the outputs. Shielded zamak chassis and metal plate. Zamak F-type connectors which form part of splitter chassis.
Technicial Specifications