Siemens Fire
Security is an important issue in every field. Especially when it comes to natural disasters, building safety must be ensured. Although it is very difficult to extinguish a possible fire, it is an event that puts human life at great risk. It is important to take early measures to prevent this event from happening. Siemens can protect human life with its advanced devices in the field of fire, with detection systems in case of a possible fire. These systems, which help to get early notice rather than extinguish the fire, should be used in all buildings.
Early Detection in Siemens Fire Systems
Many sensors in these comprehensive systems can detect a possible fire in a short time. At the same time, Siemens has designed its devices in a way that can prevent losses in fire. It is a good advantage to be able to be informed of the danger early, especially in areas where large numbers of people work in large buildings.
Important projects for the company, valuables, safes and various documents can be saved thanks to Siemens fire systems. Thanks to the increased sensitivity with multiple sensors, the system can work flawlessly and give a warning in case of fire. Products that enable systems to work in harmony with each other by developing network technologies help you to get maximum efficiency.

How Siemens Fire Systems Work
Siemens has systems that will revolutionize fire. These systems are highly reliable against substances that can deceive alarms, such as dust, machinery and exhaust gases. The consequences of the fire can be minimized thanks to the warnings that specifically analyze and interpret the signals. The system, which provides analysis with enriched networks, helps the operation to take place in the best way.
Supporting it with fire detectors makes it easier to determine the fire elements by analyzing the surrounding air at any time. The fact that it contains different gas spectra ensures that the system can be installed for all environments. You can add value to your life by using Siemens fire systems in the buildings you own and the areas you live in.
Siemens Fire Detection Technologies
Thanks to technologies with a unique detection reliability, you can protect human life in any environment. Simultaneous signal interpretation provides clear information, eliminating elements that can cause confusion. Siemens fire systems, which can deliver the necessary information to the terminals in case of emergency, always keep you informed.
Many devices that can work wirelessly are also successful in detecting fire. Some smart models automatically detect the maintenance need of the system and protect you from false notifications. These devices, which have various indicators, give detailed information about the current situation. In addition to fire detection, Siemens also provides the opportunity to create a simulation environment for fire drills. In this way, you can learn what to do in a possible fire.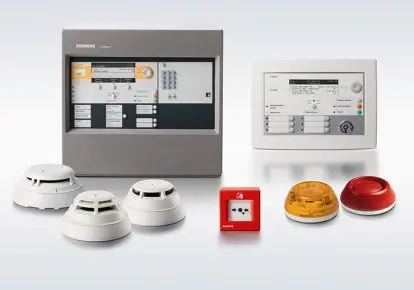 Advantages of Siemens Fire Systems
Siemens fire technologies, which are easy to install and use, can be easily integrated into the environment. It is preferred especially in narrow building areas as it is easy to access. Devices that can operate the warning system quickly with the delay rate being quite low also make it easier for the relevant people to take precautions. Many models that can detect other dangerous gases such as fire protect human life with their versatile use. Siemens fire technologies, which are frequently seen in homes, parking lots, hospitals, schools, shopping malls and workplaces, transmit visual and auditory information instantly.
The system, which activates the sirens in a possible fire, can notify everyone in the building of the event. Siemens fire technologies, which are divided into conventional and addressable; The detector, which determines the rate of increase in heat, is used with heat detectors and smoke detectors to increase its coverage. In the event of a fire, the detector placed in a certain area sends a signal to the panel in the area where it is located. In this way, it can be easily understood from which area the fire started. Although this feature is not present in addressable fire detectors, their general features are similar. Today, with crowded living spaces, Siemens fire detection systems are needed in every sector.